6th Blue Star (1948)
Federated Garden Clubs of Michigan (currently Michigan Garden Clubs, Inc.), in cooperation with the Michigan State Highway Department, dedicated a Blue Star Memorial Highway on October 10, 1948, in concert with the dedication of Michigan's Blue Star Memorial Highway.
This marker was the second of five original Highway markers designed in 1946, paying tribute to the Nation's Armed Forces of WWII, and placed at strategic locations on Michigan's Blue Star Memorial Highway in the late 1940's. The five locations included Niles, Mackinaw City, Sault Ste. Marie, Muskegon, and Traverse City.
The Mackinaw City marker was initially installed along US 31, a short distance back from the highway with a lovely pine tree backdrop.  Per an article in Thru the Garden Gate, January-February 1949, the Highway and marker dedication were to occur at the site of the marker, but inclement weather moved the ceremony to the Women's Club Building. This same article identified the Mackinaw City marker as our second of our five original markers and identified the actual date of the dedication, resulting in an update of our records. Previously, the marker was numbered 8th (now 6th) and the dedication date 1947 (now October 10, 1948). The photo below was taken on November 16, 1948.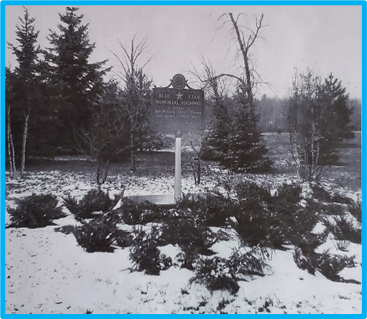 The highways coming into Mackinaw City from the south, including US 31, were realigned to connect to the Mackinac Bridge which opened to traffic on November 1, 1957.  At that time, US 31 was terminated south of the bridge and the Mackinaw City marker was relocated to its current location at the Michigan Travel Information Center, on the south-east side of the bridge, 710 S. Nicolet Street (old US 31), Mackinaw City.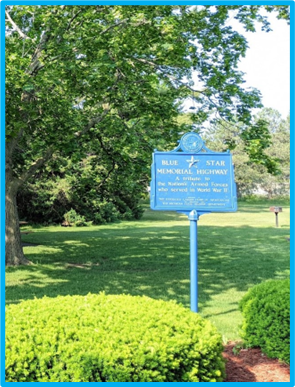 Record changes made by Trish Payne, Blue/Gold Star Chair 2022-2024.