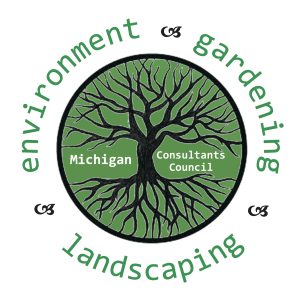 MICHIGAN CONSULTANTS COUNCIL
Landscape Design, Gardening Study and Environmental Consultants
MICHIGAN GARDEN CLUBS, INC.
The name of this organization is the Michigan Consultants Council (MCC), a member of the Michigan Garden Clubs, Inc. (MGC). The MGC is incorporated in the State of Michigan as a non-profit organization and classified by the Internal Revenue Service as a 501(c)3 organization.
The MCC organization was formed and bylaws approved in June, 2007. The first business meeting and Tri-Refresher was held in Traverse City, MI the same year. Since the beginning, two meetings a year have been held: a summer tour with speakers, garden tours, and interactive luncheons for members; at the yearly State Convention the MCC holds their annual meeting to present awards to local clubs sponsoring garden walks; MCC often sponsors a lecturer during the MGC Annual Convention. Every two years new officers are elected for a two year term. Officers are: President, Vice President, Recording Secretary, and Treasurer.
Presidents to date: Bonnie Ion 2007-2009; Mary Pulick 2009-2013; Lynn Dinvald 2013-2015; Nancy Stark Higgins 2015-2017; Rita Crawley 2017-2021.
OBJECTIVES
To protect the environment, to increase knowledge in horticulture and to promote excellence in landscape design.
To advance and continue the study of the earth, gardening and landscape design.
Encouraging and promoting attendance at Environmental, Gardening, and Landscape Design Study Schools of the National Garden Clubs, Inc. (NGC).
Serving on local and state committees concerned with civic beautification projects.
Continuing study through lectures, workshops and tours to private and public gardens.
Assisting garden clubs when requested by giving information to promote MCC objectives.
MCC MEMBERSHIP QUALIFICATION
Be a member in good standing of a MGC local club,
Be accredited as a consultant by National Garden Clubs and/or,
Have successfully completed at least two courses in any one are of study and
Pay dues of $20.00 per two year term.
MCC MEMBERSHIP CLASSIFICATIONS
Consultant – completed four courses in any one of the above area of study.
Provisional Consultant – completed two course sessions in any area of study.
Honorary Membership – conferred on the MGC President and to others by the members.
ADMISSION PROCEDURES
Qualified members shall be entitled to join upon payment of dues.
Dues are payable in April of "even-numbered years".
Dues for Provisional Consultants are payable when eligible to join.
MEETINGS
Meetings of the MCC shall be held twice a year.
There shall be a meeting in association with the Symposium, summer activity or garden walk offered sometime in the year. The date and location of the meeting shall be determined by the President and/or the Executive Board.
There shall be an Annual Meeting in the spring held in conjunction with the yearly State Convention.
Explanation Regarding Refreshing at a Tri
To download the MCC Join Us-Dues Payment form click here.
To download information on the Michigan Council Garden Walk Award, click here.
2020 Landscape Walk Award Winner for 2020
District VI Evening Bloomers Garden Club, small club, $300 winner and a certificate for their efforts