11th Blue Star (1951)
Our records previously read that:
o   Federated Garden Clubs of Michigan (currently Michigan Garden Clubs, Inc.), in cooperation with the Michigan State Highway Department, dedicated a Blue Star Memorial Highway on Highway 2, approaching St. Ignace, sometime 1947-1950.
o   This was one of six original Highway markers, paying tribute to the Nation's Armed Forces who served in WW II. 
o   These six markers were placed at strategic locations on Michigan's Blue Star Highway in the late 1940's. The six locations included St. Ignace, Mackinaw City, Niles, Muskegon, Traverse City and Sault Ste. Marie.
The wording on the Highway markers changed from honoring the "Nation's Armed Forces who served in World War II" to "the Armed Forces that have defended the United States of America" in 1951.  Because the St. Ignace marker has the later wording, it had to have been dedicated after 1950.  Consequently, the following corrections have been made to our records:
    o   The dedication date has been changed to 1951, resulting in a reordering of this marker from our 9th Blue Star to our 11th.
o   This marker is no longer one of our "original" Highway markers placed along Michigan's Blue Star Highway in the late 1940's, resulting in a change from six original Highway markers to five. The five being: Niles, Mackinaw City, Sault Ste. Marie, Muskegon, and Traverse City.   
The St. Ignace marker was initially installed on the north side of the Mackinac Bridge, approaching the city of St. Ignace.  It was located in the center of the divided highway, then called Highway 2. The photo below shows the marker at its original location.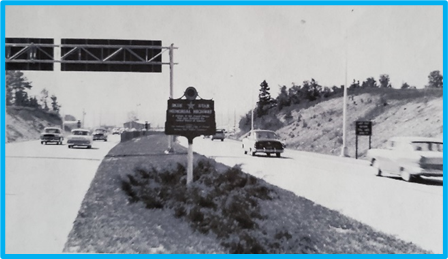 When the highway north of the Mackinac Bridge became Interstate 75, the marker was moved to the Michigan Welcome Center in Moran Township, 49781.  To visit the Welcome Center, take the first exit after the bridge when traveling north.  The marker can be found on the south side of the parking lot.  This second photo displays the marker at its current location.  The photo was taken in 2023.
Record changes made by Trish Payne, Blue/Gold Star Chair 2022-2024.