9th Blue Star (1949)
In 1949, two Traverse City Garden Clubs initiated a roadside development at a scenic turnout on US 31 overlooking Grand Traverse Bay plus a 4 ½ mile stretch into Traverse City.
Following this beautification project, Federated Garden Clubs of Michigan (currently Michigan Garden Clubs, Inc.), in cooperation with the Michigan State Highway Department, dedicated a Highway marker on Michigan's Blue Star Memorial Highway at the sight of this roadside development.
This marker was the fifth of five original Highway markers designed in 1946, paying tribute to the Nation's Armed Forces of WWII, and placed at strategic locations on Michigan's Blue Star Memorial Highway in the late 1940's. The five locations included Niles, Mackinaw City, Sault Ste. Marie, Muskegon, and Traverse City.
The photo below was taken on July 20, 1949. Consequently, we know the marker was dedicated sometime before that. The location was documented as US 31, south of Traverse City at the sight of the roadside development.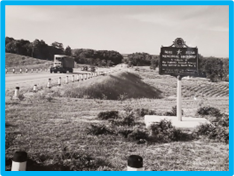 Unfortunately, this marker has been lost.
Our records previously indicated this was our 5th marker, but further research has renumbered it 9th.
Records updated by Trish Payne, Blue/Gold Star Chair 2022-2024.